At Mas Salagros EcoResort, sustainable luxury meets modern comfort. Located in the heart of a nature reserve with sweeping views of the Parc de la Serralada Litoral, Mas Salagros stands as a beacon of sustainability. As a 100% eco-friendly hotel, Mas Salagros transcends the ordinary, offering an immersive experience for conscious travelers seeking more than just accommodation From its unique bioclimatic architecture to its organic gastronomy and responsible waste management, Mas Salagros is committed to offering an environmentally-friendly and socially responsible experience for all of its guests.
What is the purpose of Mas Salagros EcoResort?
Mas Salagros is driven by a profound commitment to sustainability. Meeting the stringent standards of European regulations, Mas Salagros embraces a holistic approach to eco-friendliness. From building materials to energy efficiency and waste management, the purpose is crystal clear: to set the benchmark for sustainable tourism.
And what did they accomplish so far, in actual numbers?
Sustainability goes beyond just numbers at Mas Salagros. It is the core purpose that shapes the entire guest experience. Every aspect of the hotel, from the design and operation to the food and activities, is centered around ecological principles. Guests are invited to slow down and embrace a more sustainable way of living during their stay. This unique approach offers a refreshing and meaningful perspective on travel. With 100% ecological practices, including efficient energy consumption and sustainable room decoration, the resort has reduced its environmental impact. In fact, in 2019 alone, their sustainable initiatives saved over 3 million liters of water and avoided the emission of 21 tons of CO2. These numbers represent the hotel's commitment to creating a more responsible and conscious tourism industry.
How does this purpose shape the experience that Mas Salagros EcoResort provides for guests?
What sets Mas Salagros apart is its stunning location in Vallromanes, Spain. Surrounded by the scenic Serralada Litoral Protected Park, guests can enjoy breathtaking views and connect with nature throughout their stay. The hotel's history, dating back to 1497, adds to the charm and character of the estate. Plus, with its close proximity to Barcelona, guests can easily explore the city's cultural and gastronomic delights.
Mas Salagros EcoResort
Vallromanes, Spain
Supporting Environment
Mas Salagros EcoResort is not just a destination, but a movement towards a more sustainable and responsible tourism industry. By staying at this unique and purpose-driven hotel, guests can be a part of this movement and make a positive impact on the environment and local community. So, for your next vacation, choose to stay at Mas Salagros and experience sustainable luxury at its best.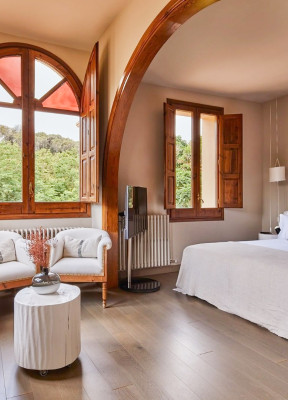 Subscribe to our newsletter for more interesting articles about sustainable travel
About the author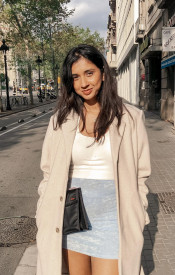 Palak Bothra
Palak studied Management and Entrepreneurship then continued to get her Master's Degree in Digital Marketing. A dedicated spirit to the start-up world, Palak has 4 years of experience in organic growth strategies.